What's The Purpose Of Annienymotee Undershirts For Women?
To protect your fine clothing from day-to-day perspiration, deodorant marks, and underarm stains with an exceptionally soft and form-fitting undershirt…made just for women. Our undershirts also help nursing Moms maintain their modesty by allowing easy access to their nursing bras, while keeping their postpartum bellies discretely covered.
How do Annienymotee undershirts save me money? 
By preventing daily perspiration, deodorant marks, and underarm stains from making their way onto your fine clothing, you dry-clean less often. With Annienymotee undershirts in your drawer, you can hang that blouse, sweater, jacket or dress back in the closet to wear again (and again) between dry cleanings. Body oils, perspiration, and deodorant rub onto our (machine washable) fabric, not onto your fine clothing.
Do Topless Tees run small or large?
Neither. Annienymotee undershirts for women run snug.

If you like a more relaxed fit, simply order one size up!

Our four-way stretch fabric ensures our tees still won't be bulky. They'll fit like an effortless second skin.. close to your body. We designed them this way so they won't show beneath clingy, thin fabrics. Our lace trim has a firm stretch to keep the undershirt in place no matter how you move. Since our Topless Tee line features an open bust, no need to worry about the fit across the chest. Just go with your normal size in knit tops (for the most seamless look). But again, if you think you might be sensitive to a snug fit, especially on the sleeves/arms, simply go up a size. You may also refer to our sizing chart for more accuracy. As an example, our model's wearing the Annienymotee size small Topless Tee. Her arms measure 10″ at the bicep, 36″ at the hip (where the Topless Tee hugs at the bottom hemline), and 31.5″ at the chest (under the bra cups). She is a regular size 4 and a C-cup. (A larger sizing chart is found here.)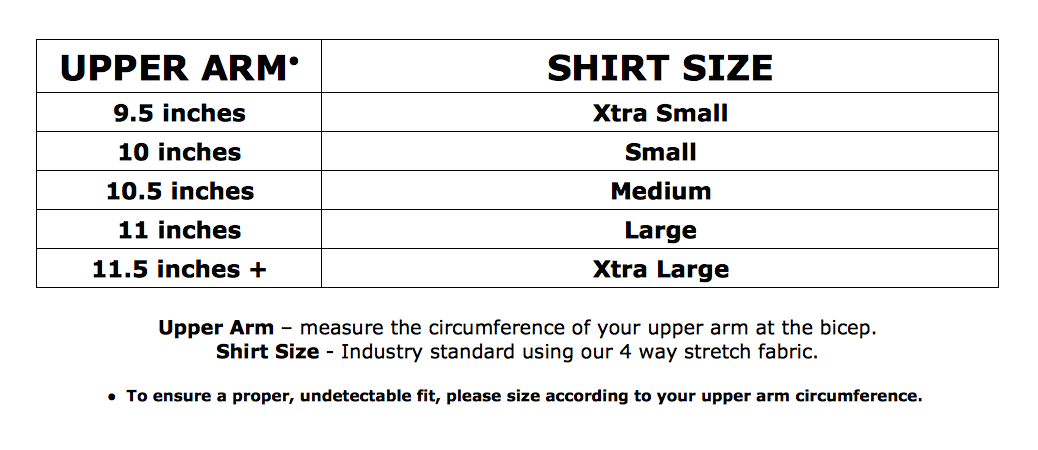 Will these undershirts smooth out my rolls and bulges?
No. Annienymotee undershirts for women are not compression garments. Our four-way stretch fabric is designed to hug your body, without constricting your movements. We designed Annienymotee undershirts to be underwear you

want

to wear. Snug enough to stay put, and incredibly soft and comfortable.
Is there a secret to wearing the Annienymotee undershirts correctly?
Not really. You can wear any Annienymotee model any way you'd like. But for the sleekest, most discrete look we recommend that once you've pulled it over your head and slipped your arms in the sleeves, you pull your Topless Tee down toward your hip bones (both in the front and

back

!). This will help pull the lace trim under and around the cups of your bra. Then, simply adjust around the bust, shoulders, and arm holes to where it's most comfortable for you. The stretch lace trim should be flat against your skin, and not covering your bust line. You may also pull the sleeves as high or low as you'd like. It's very stretchy…so play with it until you get the smooth, invisible look you're going for.
What if I don't want to tuck my women's undershirt in?
Although our undershirts are specifically designed to wear tucked-in, you certainly don't have to wear them that way. In fact, many of our customers leave the black Topless Tee out… over the waistband of whatever they're wearing. The stretch lace is certainly pretty enough to show and complement your clothing. We've also seen it worn under black tank tops… converting the style into a sleeved option. (And we have more colors and patterns coming soon that you'll want to show off!)
How do I care for my Annienymotee undershirts?
It's so easy! Cold water, delicate cycle. You may tumble dry on low, but for best results, you may choose to lay flat or line dry. Some of our customers prefer to wash their undershirts in a lingerie bag, though it's not absolutely necessary if you're washing on the delicate setting. The best part? No need to hand wash!
** One of our customers told us her Topless Tee got thrown into the hot water wash and tumble dried on high! Aside from the stretch-lace relaxing a little, she said the undershirt came out fine. (She actually preferred the change in the stretch lace.) Although our undershirts are well-made, we do

not

recommend high temperatures with washing or drying.
I'm buying a Topless Tee as a baby shower gift. What size do you recommend for nursing Moms?
We recommend going up a size for most Moms who'll be breastfeeding. That's not because of increased breast size  (since our Topless Tees have an open bust), but due to overall swelling and wanting new Moms to be as comfortable as possible. Our fabric has four-way stretch and is super soft…just the pampering she'll need! And remember, there are always gift certificates available if you're unsure.
Where can I buy Annienymotee Undershirts for Women?
Do you ship outside the U.S.?
Finally, how do I pronounce the name, Annienymotee?
Like the word, anonymity…just replace the 'anon' with 'Annie.'